Premium Solid Oak Montage 36cm x 12cm
£75.00 (inc VAT)
Very high quality, premium wooden photo blocks made from 25mm solid Oak.
Our solid oak montage wooden photo block come as either a 2-photo or 3-photo style block and is ideal for keeping your loved ones close. Ideas for wooden wedding anniversary gifts.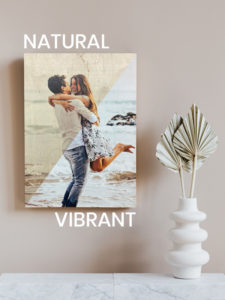 Available in the following sizes:
12cm x 24cm (2 photos) – £55
12cm x 36cm (3 photos) – £75
These blocks can be produced in Natural Look or Vibrant Finish and you can also select Matt or Gloss varnish.
Description
These solid oak wooden photo blocks come in a double or triple montage prints which complement the single picture Oak blocks we produce.
The solid Oak is sustainably sourced and looks fantastic, being able to stand on it's own.
The Oak has a very deep distinctive grain, which gives your photos and artwork a texture that is undeniably quality wood. As each tree is different, so is the grain on these Oak Blocks, making your purchase as unique as the images on them.
Produced in 2 sizes:
120mm x 240mm
120mm x 360mm
These blocks look great in any setting and make fantastic gifts too.
Natural and vibrant finish is available at no extra cost – just select your preference in the customise section.
Natural Look: your photo is printed directly onto the wood, picking up the colour and grain of the wood itself, giving you an organic, rustic, natural looking finish.
Vibrant Finish: your photo has a white background printed first, then your colour photo on top, this finish brings out the colours of your photo as though it was printed onto paper, but with the added unique feature of wood texture flowing through the image.
Your image will be direct printed onto the wood by us at Inspirwood in Devon, the UK's specialist wooden printing company