Premium Oak Plaque 24cm x 12cm Montage
£55.00 (inc VAT)
Highest quality wooden photo blocks made from 25mm solid Oak.
Our Oak photoblocks are printed directly onto the surface of this beautiful rustic solid wood. The thickness of the wooden printed photo blocks mean that they are able to stand on their own and are great for shelves.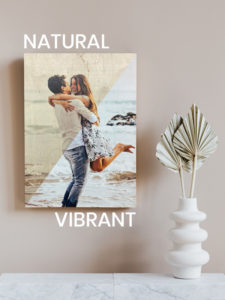 These premium photo blocks are great for valentines gifts, or birthday presents too.
Available in the following sizes:
12cm x 12cm square – £30
12cm x 18cm portrait – £45
18cm x 12cm landscape – £45
Available in Natural Look or Vibrant Finish and you can also select Matt or Gloss varnish.
Description
Our premium range Oak photo blocks are a piece of furniture in their own right.
Your photos are printed directly onto the wooden Oak blocks and can be printed with a natural or vibrant finish. The vibrant finish is produced by printing a white base under the image to make the colours pop.
All blocks are 25mm thick, so that they are able to stand up on their own on a shelf or mantel piece. The Oak border around the image also frames the photo in a beautiful and unique way, showing the natural wood off for all to see.
12cm x 12cm square
12cm x 18cm rectangular (portrait or landscape)
We also have a montage version where you can display 2 or 3 images on one wooden photo block. Click here.
Natural Look: your photo is printed directly onto the wood, picking up the colour and grain of the wood itself, giving you an organic, rustic, natural looking finish.
Vibrant Finish: your photo has a white background printed first, then your colour photo on top, this finish brings out the colours of your photo as though it was printed onto paper, but with the added unique feature of wood texture flowing through the image.