Solid Maple Photo Block Landscape
£45.00 (inc VAT)
High quality Maple Photoblooks are printed directly onto 50mm thick Solid Maple.
The maple wood is a beautiful smooth light colour wood, which enhances your image, whilst still giving a wood grain finish. These blocks are thick and heavy enough to stand on their own and don't need mounting on the wall.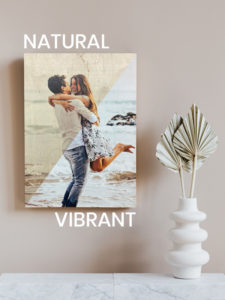 Ideal for anniversary presents, valentines gifts or just for yourself.
This photo block comes in 1 size: 15cm x 9cm in both portrait or landscape format.
This block can be produced in Natural Look or Vibrant Finish and you can also select Matt or Gloss varnish.
Description
These maple wood photo blocks are amazing quality and yet simple in design.
Printed directly onto chunky 50mm thick solid maple, sanded smooth and cut to 150mm x 90mm, they are perfect for keeping your loved one's photo next to your bed, on your shelf or just standing there on the table.
Using our online product builder software by clicking on the customise button, you simply upload the photo from your computer, phone or even social media, and position. We'll do the rest.
Presented in a natural cardboard box, these maple wooden photo blocks make a great present to someone special, or even just to yourself. Great gift for a wood wedding anniversary (5th wedding anniversary gifts) too!
Size: 150mm x 90mm x 50mm
You can also choose from natural or vibrant finish just as with all our products, for no extra cost.
Natural Look: your photo is printed directly onto the wood, picking up the colour and grain of the wood itself, giving you an organic, rustic, natural looking finish.
Vibrant Finish: your photo has a white background printed first, then your colour photo on top, this finish brings out the colours of your photo as though it was printed onto paper, but with the added unique feature of wood texture flowing through the image.