81cm x 60cm Rectangular Wooden Wall Art
£95.00 (inc VAT)
Highest quality printed wooden wall art printed onto 18mm Birch Ply.
Our Birch wooden photo panel will make a unique work of art for your home. Bring out the natural beauty of your photographs on a naturally beautiful piece of wood.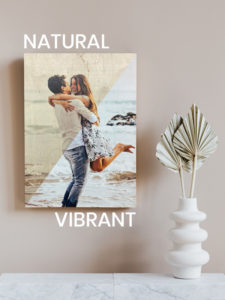 The prints come in the following sizes in either portrait or landscape orientation:
20cm x 30cm – £18
30cm x 40cm – £30
40cm x 60cm – £55
60cm x 81cm – £95
81cm x 122cm – £130
122cm x 244cm – £285
Available in Natural Look or Vibrant Finish and you can also select Matt or Gloss varnish.
Description
Turn the photos you love into a personalised artwork you can enjoy in your home.
Photos printed on wood are an amazing gift for someone special too, whether as an anniversary present for your 5th 'Wood' theme, or to some body who is celebrating their birthday.
You can choose between natural or vibrant finish for no extra cost, and there is also an option of Matt or Gloss varnish!
Natural Look: your photo is printed directly onto the wood, picking up the colour and grain of the wood itself, giving you an organic, rustic, natural looking finish.
Vibrant Finish: your photo has a white background printed first, then your colour photo on top, this finish brings out the colours of your photo as though it was printed onto paper, but with the added unique feature of wood texture flowing through the image.
All the products on our website are produced here, in house at our purposely converted warehouse on the river, from start to finish, by a creative and dedicated team of print and carpentry professionals, ensuring that the finished item you receive is worthy of your wall space, helping to make your home beautiful and stylish.
The rectangular prints are available in the following sizes:
20 x 30cm
30 x 40cm
40 x 60cm
60 x 81cm
81 x 122cm (Large)
122 x 244cm (Very Large)
All standard prints are on 18mm Birch Ply, whereas large and very large prints are on 12mm Birch Ply.